My $47 collapsible standing desk
I've wanted a standing desk ever since I first read about the idea three or four years ago.
But even though the health benefits seem clear, it takes a special kind of guy to stand tall amongst an acre of of low-walled cubicles.
That guy I am not, and during my corporate career I stowed the standing desk idea away, alongside my once-held ambition to be a professional magician.
Now that I work remotely every day, the only thing that's prevented me from springing for a Geek Desk is limited space. The lower level family room where I work is just about tapped out in the furniture department, and adding another desk would entail getting rid of a nice, solid wood desk we already own.
I do have a little open wall space in my office, though, and I've thought about cobbling together a makeshift desk with some repurposed shelving.
Then I stumbled across Ikea's wall-mounted drop leaf folding table (affiliate link), available on Amazon for $35.49, plus $11.99 for shipping. It seemed too good to pass up, and I'm glad I ordered one.
Installation
Setup was simple. The desk comes with all the hardware required for assembly, but you'll have to supply your own fasteners to actually mount it to the wall. As it happens, the back side of my office wall is unfinished, so I framed in some extra supports between the studs and installed the desk with some long wood screws. If you don't have access to the other side of the wall, heavy duty drywall anchors will provide adequate support as long as you don't do any swan dives off of your desk.
Before drilling any holes, I propped the desktop up on various objects to find the ideal height. I'm 5'9″, and a height of 41″ puts the desk surface just above my belly button. My elbows are bent just a little more than 45 degrees, and I can work comfortably on my paper-thin MacBook Air and my chunkier ThinkPad W520, which raises my hands about 1″ from the desktop.
Instead of following the Ikea assembly instructions, I'd recommend first just putting together the section that mounts to the wall, which looks like a T, then using it as a template to help position the fasteners. I loosely screwed one end to the wall first, then set a level on top of the T while I drilled the remaining holes.
It's also a good idea not to tighten any one screw fully until the other holes are drilled and their respective screws partially tightened. Otherwise the frame will probably shift and throw itself off level.
To finish the project off I ordered a 1″ desk grommet similar to this one from eBay for $4 shipped. It'll be nicer not to have to run cords around the side of the desk when I need to plug in.
Impressions
I'm pretty happy with how this desk fits in my office and its overall appearance: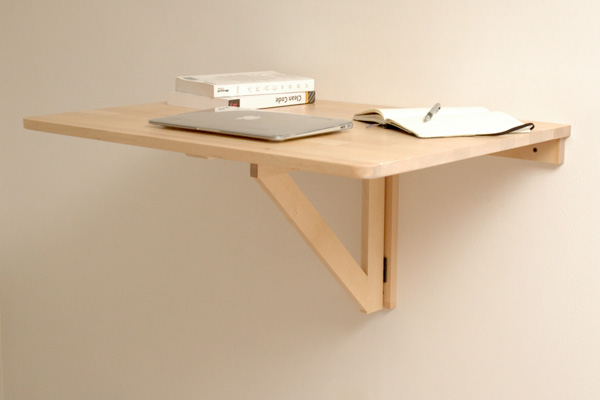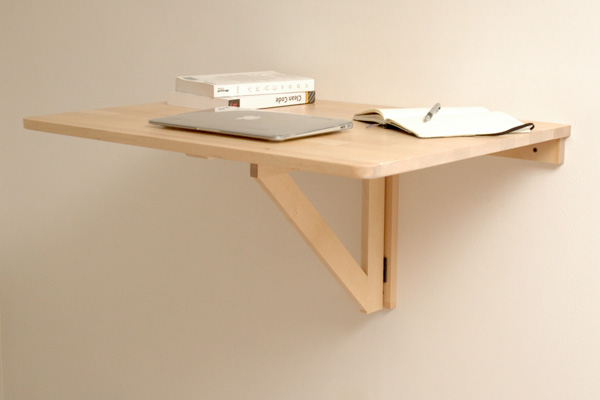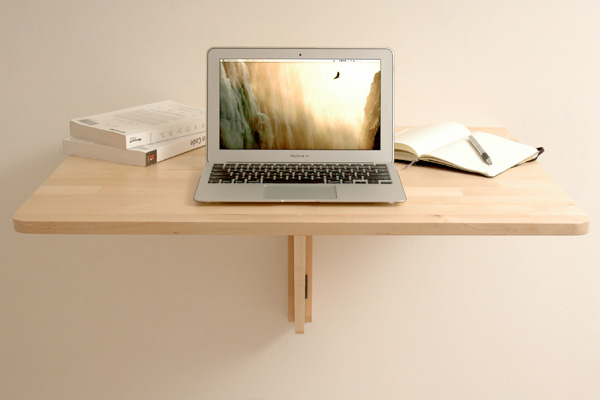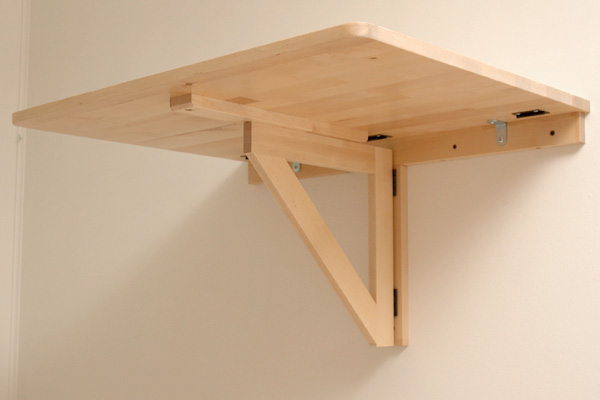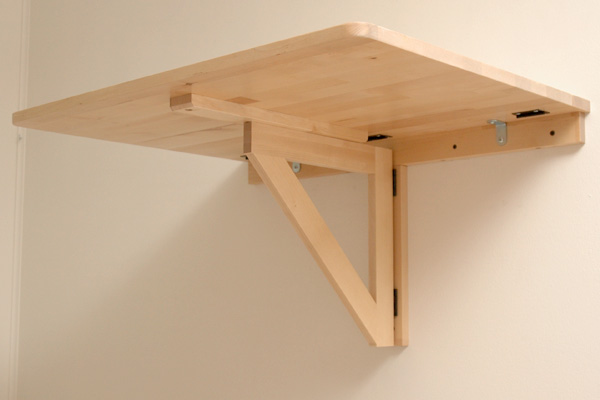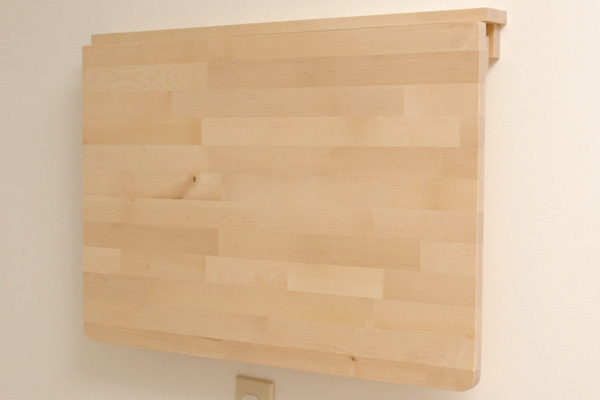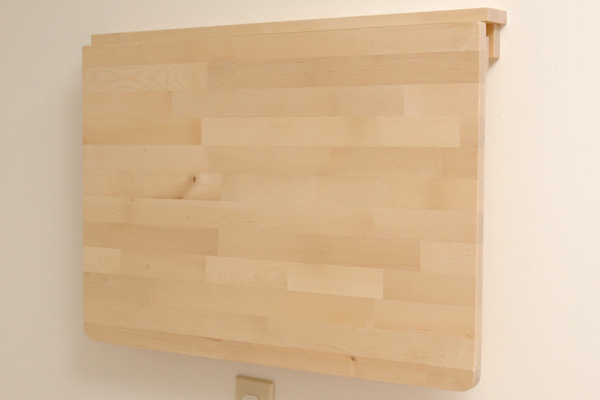 This desk is nothing fancy, but for the price it's well constructed. It's solid wood with a clear satin finish. The surface doesn't flex or bounce when extended, even thought the desk top itself is only about 1″ thick. When folded, it protrudes about 4″ from the wall, making it quite unobtrusive.
One minor annoyance that I noticed soon after completing the installation: If I put a little weight on the front edge, the desk makes a slight creak. Initially I assumed this was coming from the screws holding the desk to the wall, but it's actually just the top shifting slightly where it meets the swing-out arm. Putting a little foam rubber padding on top of the arm eliminated the noise and made the whole assembly feel more solid.
Overall I'm quite pleased. If you're looking to augment your existing standing desk and don't mind putting a few holes in your wall, this is a great option.